Thessaloniki locals have definite preferences when it comes to which leg is the best of Halkidiki – Sithonia or Kassandra. If you're looking for more socializing and beach bars, then the super-sociable Kassandra leg will suit you very well. But if you're looking for wilder nature and some of the most dazzling beaches in all Greece, then you'll love the somewhat quieter leg Sithonia. Sithonia beaches rank among the best in Greece.
First of all, a short introduction to Halkidiki. Even though it's part of mainland Greece, you'd really never know it. Much of Halkidiki, although just an hour from Thessaloniki, feels wild and remote. Halkidiki delivers the complete Greek Island fantasy – untamed natural beauty, pristine beaches, and just enough ultra-cosmopolitan hotels and restaurants, classic seaside tavernas, and laid-back beach bars to spoil you on your holiday.
The air of this luscious jade-green peninsula is sweet with the scent of pine trees. The shade is a wonderful respite from the heat of the Mediterranean summer, and most all Sithonia beaches – as well as many beaches of Kassandra – have plenty of trees lining the silky white sand. The waters of Halkidiki rival the finest anywhere in Greece, with dazzling shades of turquoise and jade. Many of the best beaches in Sithonia are awarded with a Blue Flag for their exceptional waters. Prepare to be delighted.
The west side of Sithonia, facing Kassandra, is the slightly more polished and populated side, with more towns and hotels. The east side, facing Mt. Athos, is the wilder side, with fewer and smaller towns, and more camp grounds. This is where you'll find most of the wilder and dreamier Sithonia beaches.
A Sithonia Beaches Map: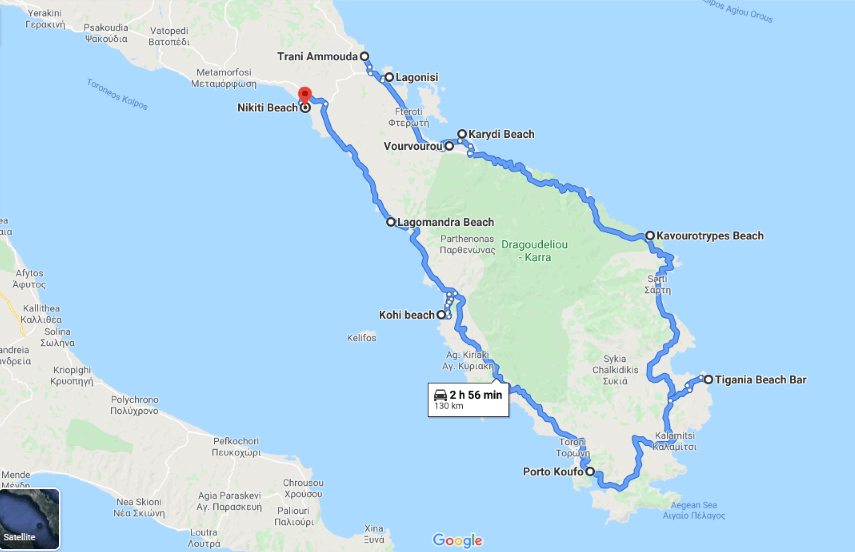 We're starting our round of Sithonia on the dramatic and wilder eastern side, facing the gulf of Agios Oros – Mt. Athos, making our way around the southern tip, and coming up on the more polished west side, facing Kassandra.
Getting to the Sithonia Beaches from Thessaloniki
Although most GPS systems will show you the main coastal road 24 (Thessaloniki – Nea Moudanion
Here are our 10 favorites among many – the best beaches of Sithonia, Greece. Have a great time, and don't forget your sunscreen.
1. Livrohio Beach Sithonia / Trani Ammouda Beach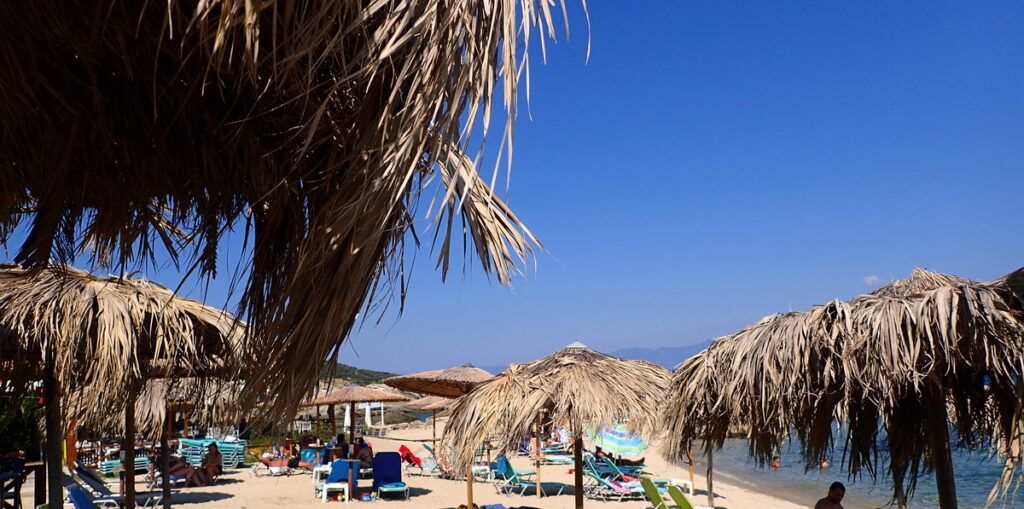 Trani Ammouda Beach – as the locals call it – also known as Livrohio beach, Sithonia – is one of the longest and most laid-back Sithonia beaches. Along its two kilometers, there are stretches of pure sand alternating with relaxed beach bars with loungers and umbrellas in between. The pure waters are shallow and generally calm, making this a good beach for families.
Where is Trani Ammouda Beach (Livrohio Beach, Sithonia)?
Livrohio beach Sithonia is just north (less than 500 meters) from the charming port town of Ormos Panagias. This is a fine home base for relaxing on Halkidiki, with traditional fish tavernas on a marina, plenty of shops and markets for essentials and food and drink, and lots of rooms.
How to Get to Livrohio beach Sithonia / Trani Ammouda
This is one of the quickest of the Sithonia beaches on the east side to reach without a car. You can take the a bus from the KTEL Halikidiki bus station in Thessaloniki to Ormos Panagias. The ride takes two hours and there are buses twice a day in the peak season. To get to the KTEL Halkidiki station straight from the airport, see here.
The Best Places to Stay near Trani Ammouda / Livrohio
Feggaropetra by the Sea: This charming private stone house gets rave reviews for its huge and shady garden, convenient location, great hosts, and perfect relaxed summer vibe. It's air conditioned, and just 300 meters from Trani Ammouda beach. Pet friendly!
Antigoni Beach Resort: This four-star beachfront resort – directly on Trani Ammouda beach – features chic modern decor in harmony with the Mediterranean light and palate. All rooms have good balconies, facing the sea or the pool. Sumptuous breakfasts, a gorgeous pool and beach bar, and a super friendly staff earn the Antigoni Beach Resort a superb rating from guests. For photos, reviews, and booking info, check here.
2. Lagonissi Beach Sithonia
Another beauty on the eastern shore of Sithonia, Lagonissi beach is a great choice for those who want to combine the famously pristine sands and crystal waters of Sithonia beaches with a more sociable atmosphere. A beach bar occupies most of the beach so you can enjoy Lagonissi from the comfort of a sun lounger under an umbrella while you sip a cappuccino freddo. There's a narrow sandbar leading to a tiny islet.
Where is Lagonisi Beach?
Lagonissi beach is on the east side of a small peninsula just south of Ormos Panagias.
How to Get to Lagonissi Beach
You can park near the beach, or walk in from Ormos Panagias, which is also easy to reach with the KTEL.
Where to Stay at Lagonisi Beach
Lagonisi Beach Resort – These very pretty apartments with terraces are directly by the sea. They have everything you need to enjoy your holidays, including a fully-equipped kitchen. Surrounded by gardens and with a playground, it's a great choice for families and groups of friends. Guests give it the highest reviews – see here for photos, details, and booking.
Avra Hotel – If you're looking for a more traditional hotel stay, with a good breakfast and a restaurnt roght on the beach, the Avra Hotel is a fine choice. Its location overlooking the harbor of Ormos Panagias is also very convenient, in the heart of a charming port town. See photos, reviews, and booking info here.
3. Vourvourou, Sithonia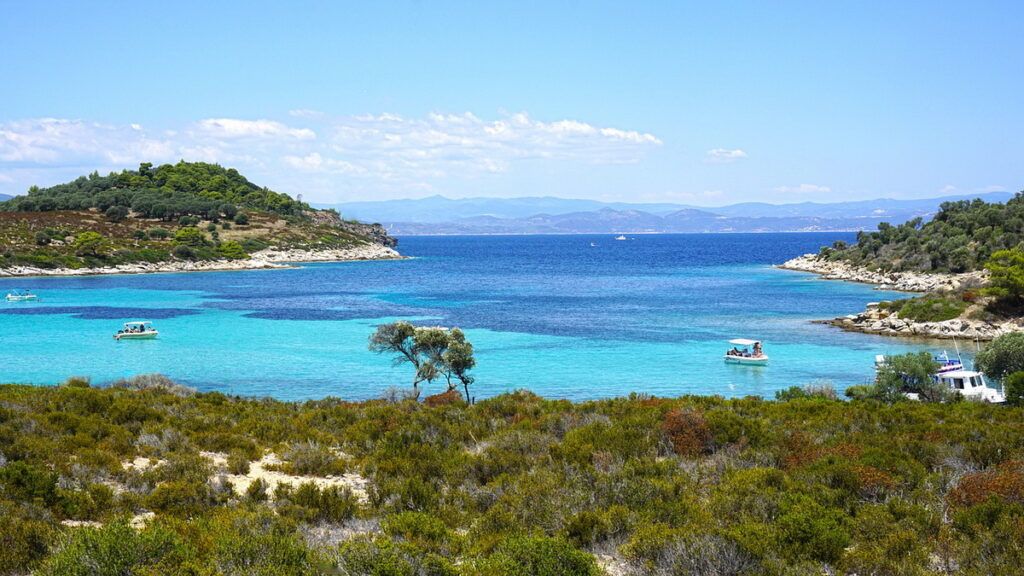 The beauty of Vourvourou is legendary. It's a great favorite of the beach destinations in Sithonia for Thessaloniki locals. Much of the charm of Vourvourou is that it doesn't reveal itself at first glance – it rewards exploration. This dreamy beach destination is in its own sheltered cove, protected by the small island Diaporos. Vourvourou has an archipelago of nine exquisite tiny islands. You can rent a boat and find your favorite. Among the highlights is the Blue Lagoon – a shallow bay of brilliant light blue waters and white sands. Of course there are several beaches to discover – among them Livari and Fava.
Vourvourou is such a charming part of Halkidiki that it deserves its own post – Here's a complete guide to Vourvourou.
Where is Vourvourou, Sithonia?
Vourvourou Beach is about 10 Kilometers south of Ormos Panagias.
How to Get to Vourvourou Beach
Vourvourou is about an hour and a half from Thessaloniki by car. The KTEL Halkidiki bus has two departures daily from Thessaloniki, and the ride takes just over two hours.
Where to Stay in Vourvourou
Avista Private Resort – Fabulous. If you're looking for an idyllic stay for a group of friends or a family retreat, then you'll love this exclusive private villa. Chic and summery, beautifully appointed, with every amenity – including a gorgeous pool. With three bedrooms plus a sofa bed in the living room, and three bathrooms, the 120 square meter villa with terrace comfortably houses 8. Check here for photos, rave reviews, and booking info.
Anna – Tsiara Paradise Studios – These immaculate private studios with a fully equipped kitchen also get raves from visitors. For photos, more details, and booking, see here.
Ekies All Senses Resort – If you're looking for a full-service deluxe experience, the beachfront Ekies All Senses Resort delivers. Stylish decor, a gorgeous outdoor lounge under the pines, a pool, and a spa and wellness facility make this perfect for a chic luxury beach experience. On a private beach with glittering white sands. You can find photos, reviews, and complete booking information here.
4. Karidi Beach Sithonia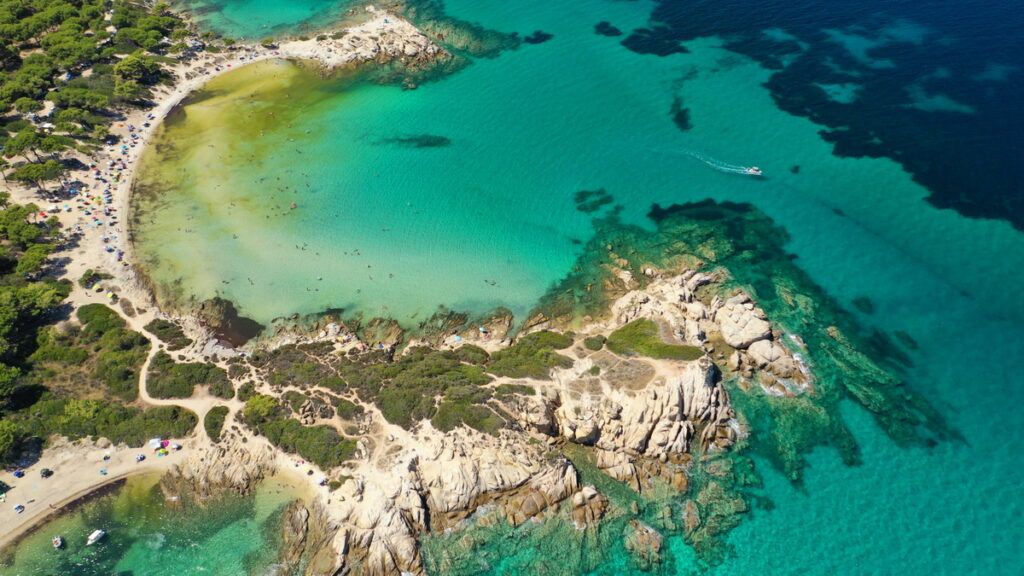 One of the most dazzling beaches in Sithonia, Karidi beach is a protected wonderland in a snug bay. Its pearl-white sands and crystal clear ultramarine waters make for the ideal Greek holiday fantasy swim. Another plus for nature lovers: Karidi beach is a natural beach – no umbrellas, sunbeds, or beach bars. In fact there are no facilities of any kind, except for maybe a cantina in the peak months. Bring everything you need with you. The beach is surrounded by a pine forest. Try to come early to grab a spot in the sweet shade – Karidi beach is understandably popular – and enjoy a wild beach day at one of the prettiest beaches in Greece.
Where is Karidi Beach?
Karidi Beach is at the southern edge of Vourvourou, a lovely fishing village with a series of bays and an archipelago of little islands. It's on the east coast of Sithonia, facing Mt. Athos.
How to Get to Karidi Beach
You can very easily walk to Karidi Beach from Vouvourou. There's also parking near the beach – although it does fill up in the high season. You can get to Vourvourou with the KTEL Halkidiki bus. It takes a little over two hours and there are two departures daily.
Staying at Karidi Beach
Vourvourou Hotel – This airy family hotel right on the beach has beautiful views and private balconies. This is a great choice on a budget, and gets fantastic reviews from guests for its stellar location, friendly staff, cleanliness, and value for money. To see more details and photos and to book, check here.
5. Sithonia Orange Beach – Kavourotripes Beach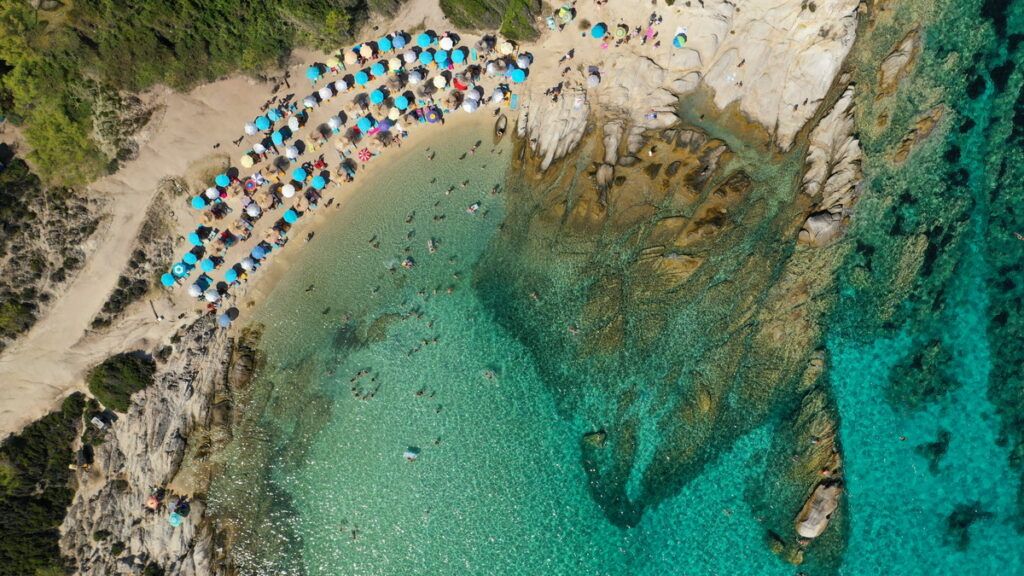 Of the Sithonia beaches, Orange beach Sithonia is one of the most famous, considered one of the best beaches in Sithonia with every good reason. More often called Kavourotripes beach by locals, this small beach of pure white sands is in a snug cove between beautiful formations of granite. The terrain is other-worldly. Adorable little crabs scramble in and out of crevices in the rocks by the sea's edge, hence the name – Kavourotripes means "crab holes."
Kavourotripes beach itself has a lively beach bar with loungers and umbrellas. But the cove just before is wilder, and many people also set up right on the rocks. It's very easy to slip into the clear, jewel-toned sea straight from the rocks. The white sands below literally glitter with reflective shavings of rock. The waters are shallow for a few meters, and since Karvourotripes is in a cove, the waters are often calm. Snorkelers will love the underwater view, teaming with life. Watch out for the occasional "achinous" – sea urchin – near the rocks.
Where is Sithonia Orange Beach – Kavourotripes Beach, Sithonia?
Kavourotripes beach (Orange Beach, Sithonia) is in an amazing location. On a wild stretch of the east coast of Sithonia, just above Sarti, it's directly across from Mount Athos. But not just the leg Mount Athos – Sithonia Orange beach looks right at the peak of Mt. Athos itself – 2033 meters high – at the leg's tip. This is one of the most beautiful views in Halkidiki.
How to Get to Orange Beach, Sithonia – Kavourotripes Beach
Orange beach is a little less than 2 hours away by car from Thessaloniki. It's about 8 kilometers north of the seaside village of Sarti (which is why it's sometimes called Orange beach Sarti). There's a clear sign from the road and plenty of parking. The walk down to the beach and the rocks is less than 50 meters, along an easy path.
6. Tigania Beach Sithonia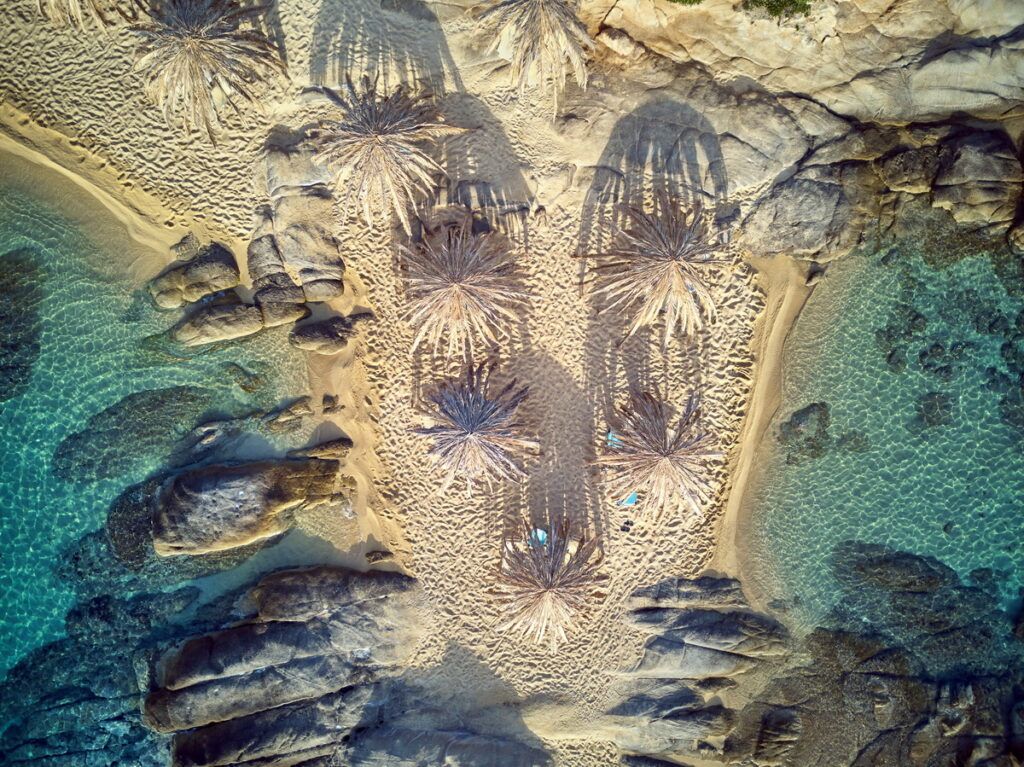 Dreamy, exotic Tigania – one of the best beaches in Sithonia – was until recently more of a local secret. A tiny cape with a tropical beach bar separates two pristine gulfs of golden sands and Caribbean-style waters. The beach bar has umbrellas of palm leaves, adding to the exotic mood and blending harmoniously with the natural beauty.
Tigania is a little hard to reach, and this is a blessing as it is often less crowded than some of the other famously spectacular beaches.
Where is Tigania Beach Sithonia?
Tigania Beach is close to the tip of Sithonia, facing Mt. Athos. It's between the better known beaches Kriaritsi and Klimtaria.
How to Get to Tigania Beach
There are two ways to get to Tigania beach. Look for signs between Sikia to Kalamitsi as you drive along the main road of Sithonia. The drive down to the beach requires a little caution but the reward is worth it. Alternatively, you can take a small seaside road starting from Sykia.
7. Porto Koufo Beach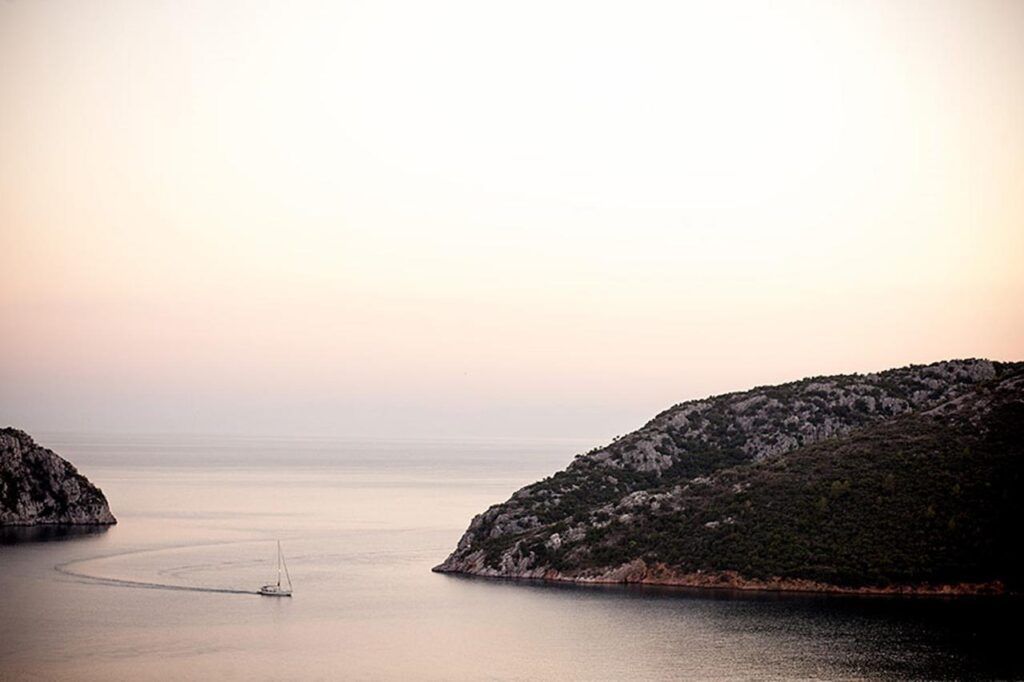 Porto Koufo stands out among the beaches of Sithonia because of its unique topography. The name means literally "deaf harbor" – this is Greece's largest natural harbor. The name indicates that it's so closed that not even sound escapes. This is a nearly entirely enclosed deep blue bay. Tall hills with pine forests surround it, sheltering it from winds. The landscape is refreshingly Alpine. This is one of the quieter beaches of Sithonia, with deeper waters than some for a refreshing swim.
The harbor is popular with fishermen, which translates into great fresh fish at the seaside tavernas.
Where is Porto Koufo?
Porto Koufo is almost at the top of Sithonia, on the west side facing Kassandra.
How to Get to Porto Koufo Beach
Porto Koufo is right off the main road of Sithonia and is very easy to reach by car. There are also three buses a day from the KTEL Thessaloniki, taking just over three hours.
8. Kohi Beach at Porto Carras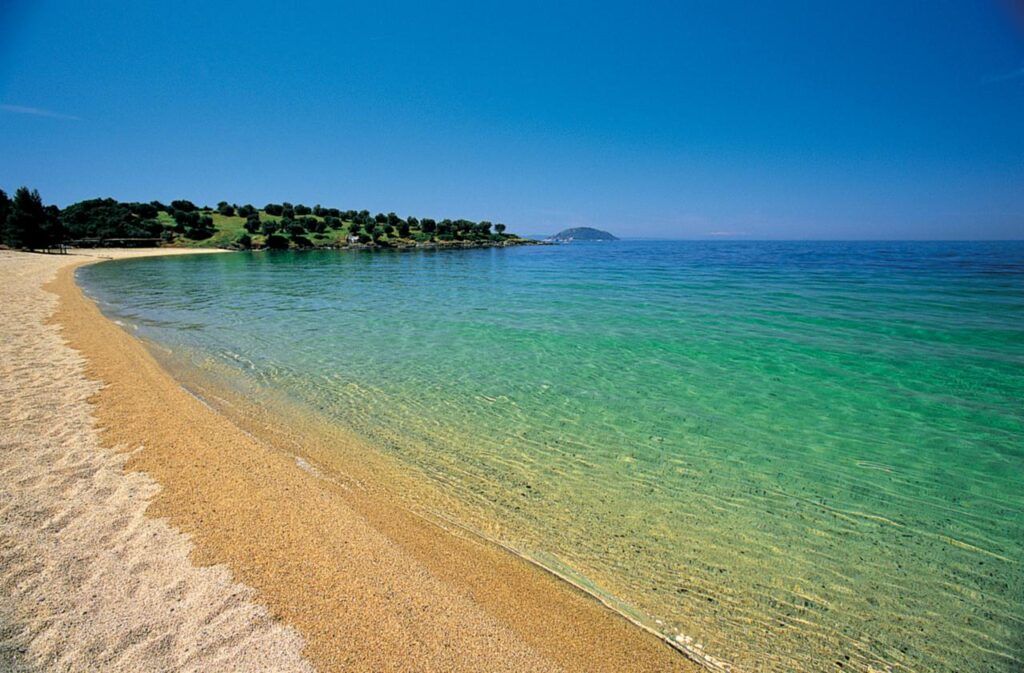 Enjoy some five-star cosmopolitan glamour at Kohi Beach, which is part of the Porto Carras luxury beachfront resort. The beach is accessible to all, but you'll need to rent a sunbed at the Kohi Beach Bar. The waters are supreme, and so is the view of Kassandra. This west-facing beach is a perfect spot to enjoy a sunset cocktail and a romantic swim in the golden evening light.
Where is Kohi Beach?
Kohi Beach is at Porto Carras, in the middle of the western coast of Sithonia. It's just 4 kilometers south of Neos Marmaras, the largest town of Sithonia with a charming port.
How to Get to Kohi Beach Porto Carras
It's very easy to reach Porto Carras and Kohi beach – they're off of the main road of Sithonia. Three buses daily connect Thessalonii with Neos Marmaras.
9. Lagomandra Beach
This long stretch of beach is one of the most popular beaches in Sithonia. Hotels along the beach have organized sections of the beach with sun loungers and beach bars. There are also open areas. The southern part of Lagomandra beach had plenty of water sports centers for lessons and rental equipment if you want to enjoy an active day at the beach. This is a convenient beach, with plenty of services, shops, snacks and restaurants nearby.
Where is Lagomandra Beach?
This popular beach is between Nikiti and Neos Marmaras, right off of the main road.
How to Get to Lagomandra Beach
Close to the northwestern part of Sithonia, it's a short and easy drive from Thessaloniki to Lagonissi – just over an hour and a half. Three KTEL Halkidiki buses leave from Thessaloniki daily, and the trip takes a little over two hours.
10. Nikiti Beach Sithonia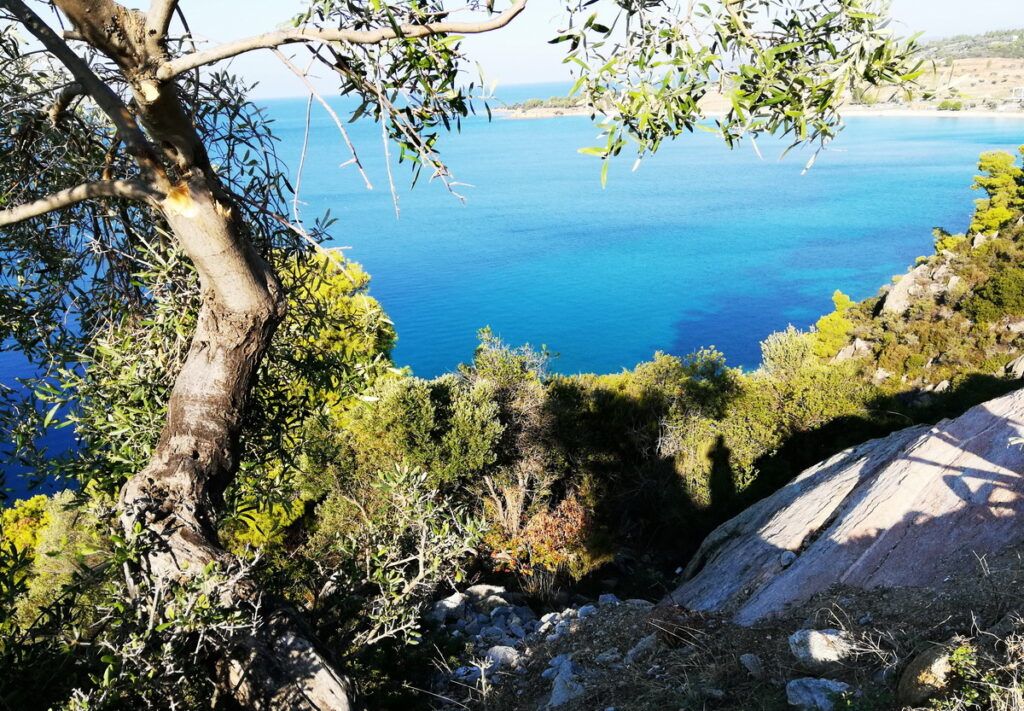 For ease of access and convenience, it's hard to beat Nikiti beach. This is not only a blue flag beach, but it also has a blue flag marina. The long beach is well organized with sunbeds and umbrellas. There are shops, snackbars and tavernas all around, making this a good choice for a family beach day. Unlike many beaches of Halkidiki though, the sea floor is pebbly, rather than sandy, in some parts.
Where is Nikiti Beach?
Nikiti Beach is right in the town of Nikiti. It's at the very beginning of the Sithonia leg of Halkidiki, on the west side.
How to Get to Nikiti Beach
This is the easiest of all the beaches of Sithonia to reach. It's an hour and 15 minutes from Thessaloniki on the main road. The KTEL bus from Thessaloniki takes a little over an hour and a half, and there are several departures a day in the high season.
11. Koviou Beach, Nikiti
Slightly out of the way tucked between two more famous beaches – Agios Ioannis and Kalogria – Koviou Beach Sithonia is often less crowded. Koviou a local favorite. Families love the calm and shallow waters and soft sand. This is a great swimming beach. There are sun beds and loungers for those who want them, but also room to set up on your own.
Where is Koviou Beach?
About 5 Kilometers south of Nikiti, after Agios Ioannis beach.
How to Get to Koviou Beach, Sithonia
The Nikitis – Sartis road will take you right to the Koviou beach. You can park at the northern end of Koviou beach and walk down, or by the Hotel Makednos.