Thessaloniki offers many excellent hotels and rooms for a city of its size. Since Thessaloniki is relatively compact, and so easy to get around on foot, the center is the most practical and fun choice. Here is a short list of the top 5 favorites, based on style, quality, and their superb locations.
The Electra Palace – The Best Hotel in Thessaloniki for Views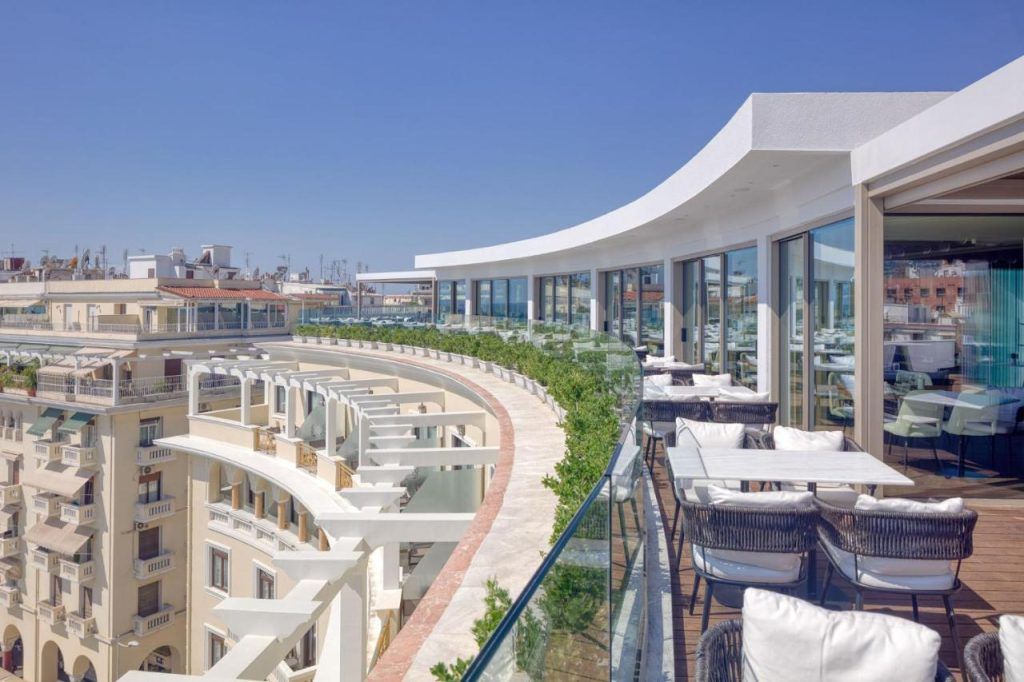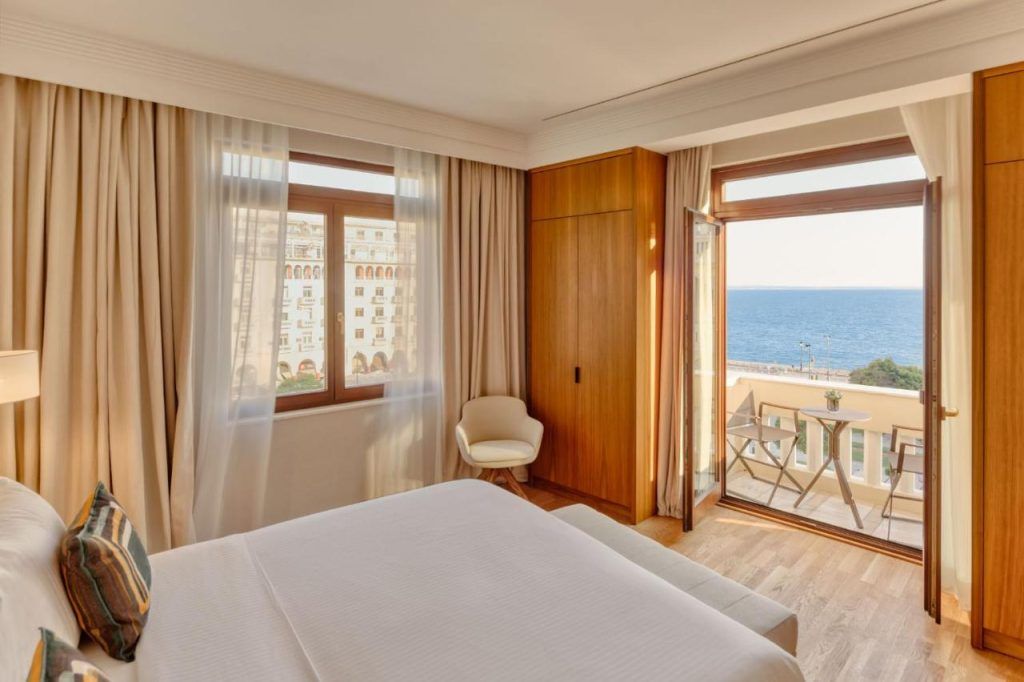 For a surprisingly affordable ultra-splurge, the luxury hotel Electra Palace is unbeatable. The Electra Palace is an elegant historic building curving around Thessaloniki's defining plaza – Aristotle Square. You're just steps from the Thermaikos Gulf and within easy reach of everything you will want to do, see, or taste. Or you can just spend the weekend very happily right here, sipping cocktails from your balcony, gazing at Mt. Olympus across the bay. The rooftop terrace has the best views in the city and is a popular meeting place for locals. Rooms are chic and super-luxurious. And the hotel's new decor is has been done in conjunction with Thessaloniki's Metropolitan Organization of Museums. Works from the superb Costakis collection inspire meaningful decor.
Click here for details – current availability, glowing guest reviews, and more images.
The Excelsior – The Best Hotel in Thessaloniki for Traveling with your Pet in Style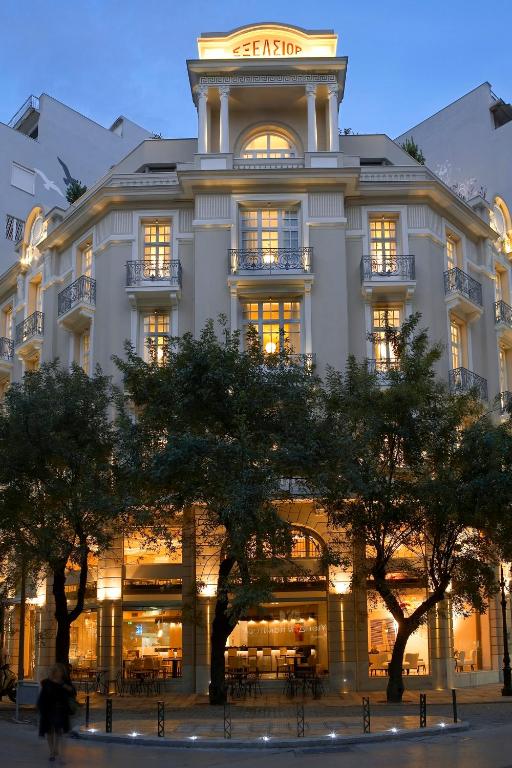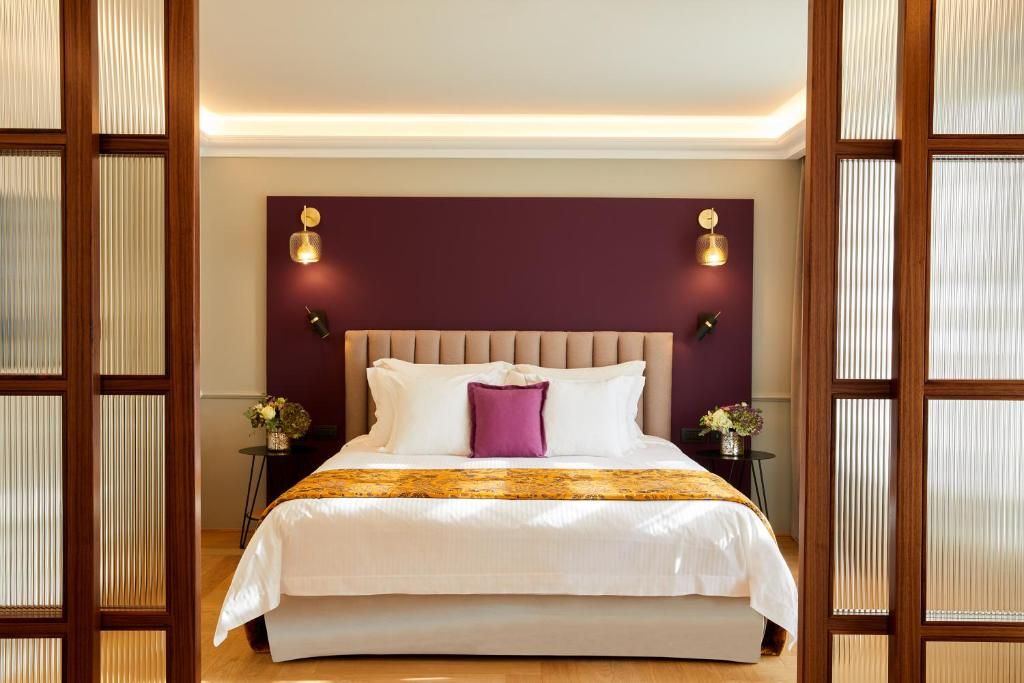 Even if I'm not travelling with my dog, I love a pet-friendly hotel. Also in the heart of Downtown Thessaloniki, on a chic and shady central intersection of small streets, The Excelsior has a superb location. Channelling Thessaloniki's Belle-Epoque elegance. However, a luxury restoration ensures a modern, minimalist sensibility. Guests rave avbout the breakfasts. The in-house Charlie D. Brasserie has some of the best tables in town. The Excelsior is a memeber of the Small Luxury Hotels of the World group. Guests give it 9.2. and 9.0 for value for money – a very worthwhile spend.
Click here for details – current availability, guest reviews (including from those traveling with pets!), and more images.
Bahar Boutique Hotel – for Dining and Nightlife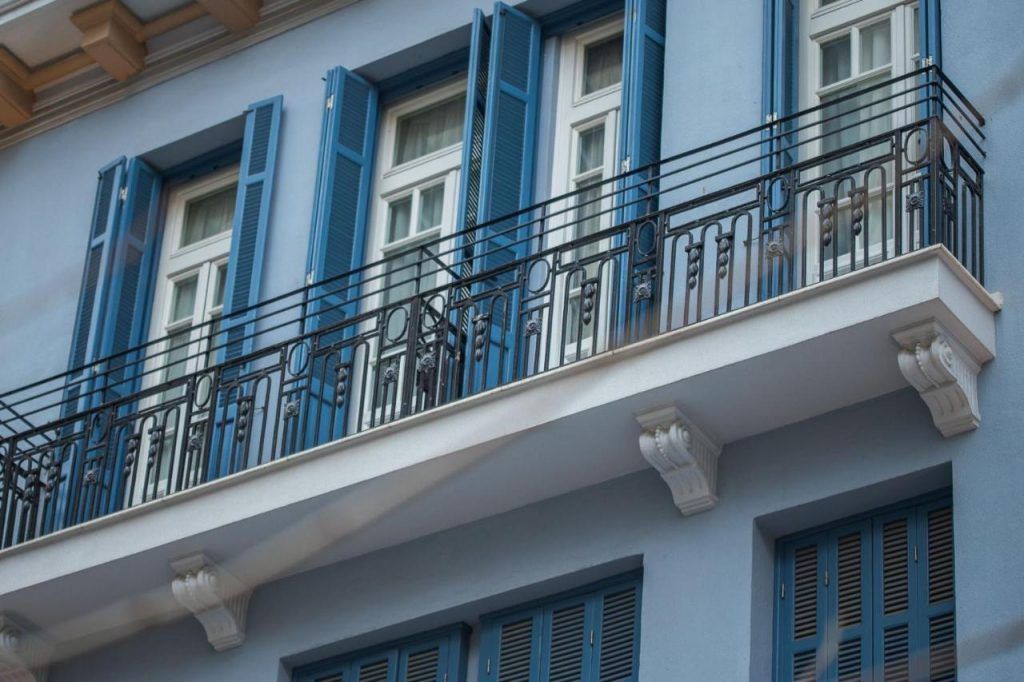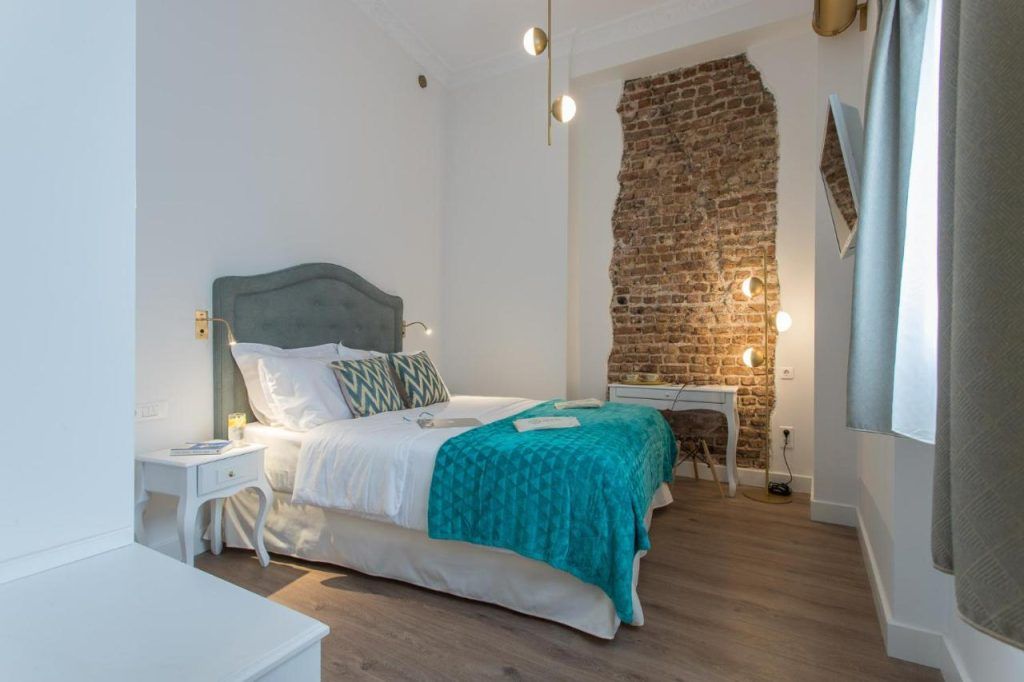 Slightly less spendy and a little more casual – but still plenty plush – the Bahar Boutique Hotel's name comes from the word for spice. This was always, and still is, the neighborhood for wholesale spice merchants. The neighborhood has kept its original character and charming architecture while also welcoming the best new places for taking part on Thessaloniki's famously good social scene. The Bahar Boutique hotel is in today's best neighborhood for bistros, bar-hopping, co-working, street art, and general creativity – the Ano (upper) Ladadika.
Rooms in the restored histroic building are elegant, airy and modern, while also respecting the unique character of the neighborhood. An added plus, the Harara Hamam just opened right down the street (a new addition to Thesslaoniki's good spa scene).
Here you'll find complete details for booking, plus availability, reviews, and more images.
Orestias Kastorias – Best Thessaloniki Hotel on a Budget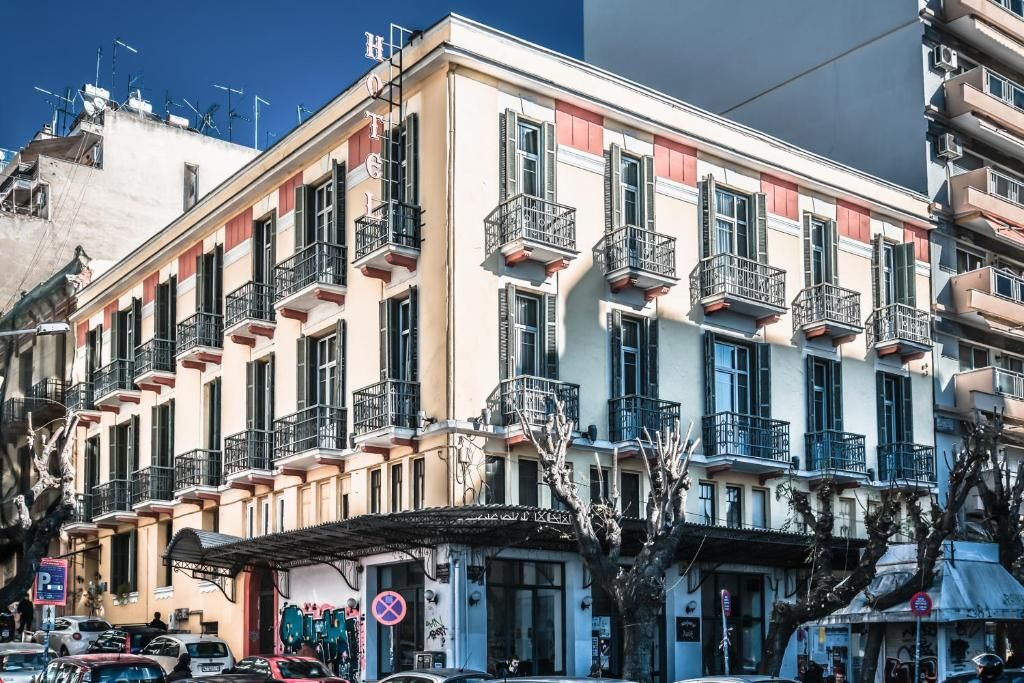 This budget Thessaloniki hotel is a charmer. It overlooks the lovely Ancient Roman Agora, and is just steps from the Church of Agios Dimitrios (Thessaloniki's Patron Saint). This central neighborhood above Egnatia Street was historically the elite section of the city. Elegant Belle-Epoque and Art Deco buildings line the shady streets, where you'll find everything from contemporary Art Galleries to an all-night "Patsas" place (Thessaloniki's cult-status after-hours dish, approved by Lou Reed among many). The Orestias Kastorias is in a newly renovated early 20th century beauty. The comfortable and simple rooms are absolutely one of the best values in the city. For enjoying Thesslaoniki's nightlife, this – like the Bahar – is an excellent choice for about half the price. Highest marks for cleanliness, location, value for money, and friendly staff.
Here you'll find complete details for booking, plus more images and lots of rave reviews from happy guests.
Zeus Is Loose Hostel – Best Choice for Solo and Sociable Travelers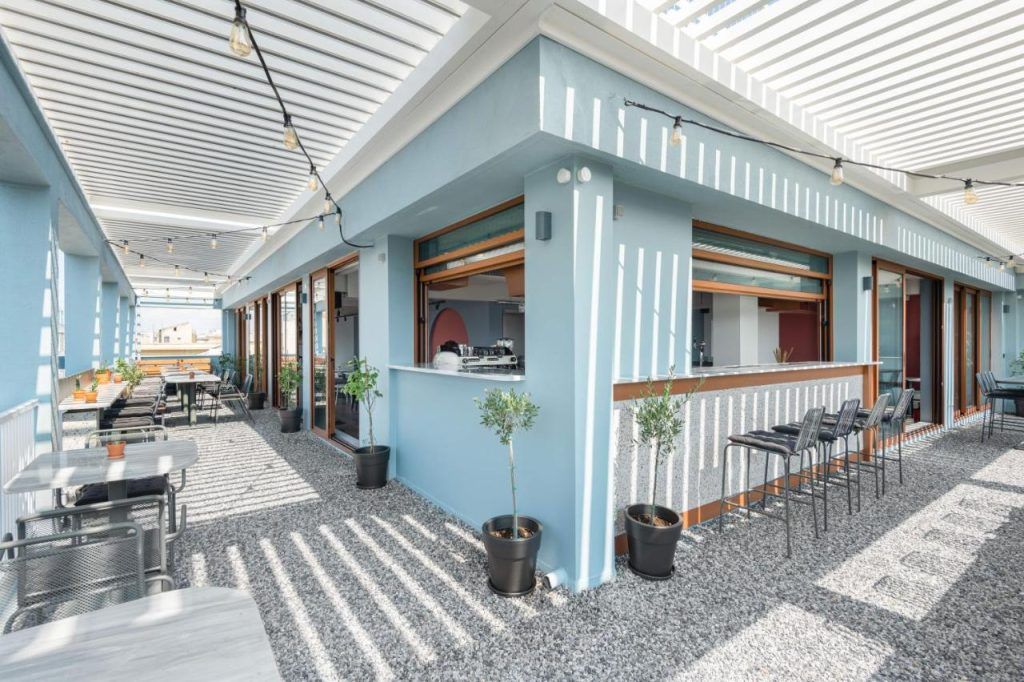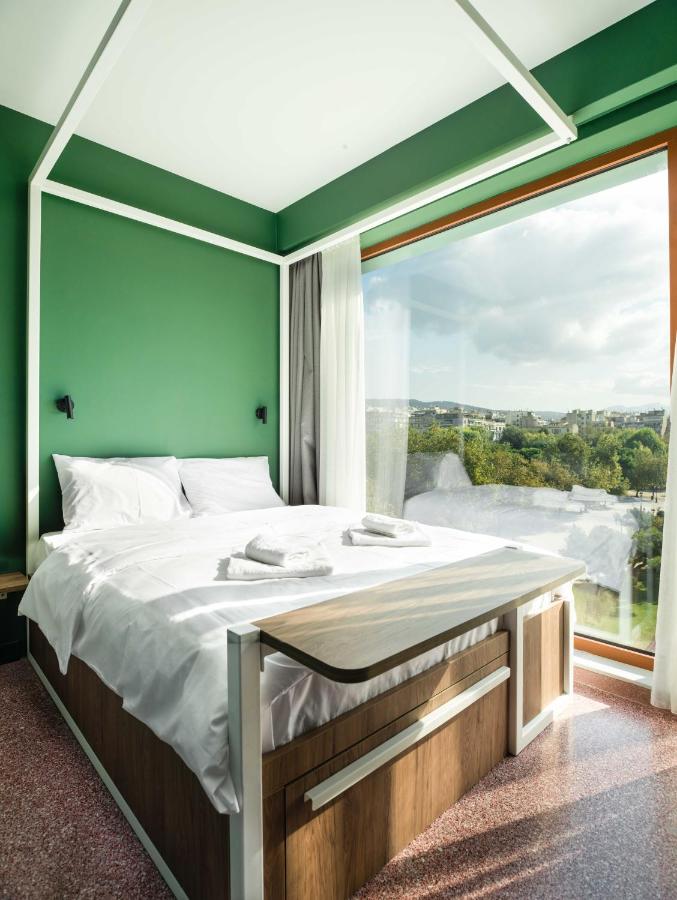 Clean and cheerful Zeus is Loose is perfect for solo-travelers, couples, and groups of friends. Offering beds in dorm rooms plus cozy doubles, this budget option overlooks the central park above Aristotle Square. Near Bahar Boutique Hotel and Orestias Kastorias, Zeus is Loose is another good choice for enjoying after-hours Thessaloniki. It's also right in the center – perfect for sightseeing and cultural activities. The rooftop bar (pictured) with a view over the park and monuments, is a greta place to meet other travelers as well as locals. There's also a shared lounge, and a friendly staff on hand who wants to help you make the most of your stay.
Absolutely amazing floor to ceiling windows let the beauty of the city in, and original terrazzo floors channel some mid-century style.
Check here for complete details on availability, pricing, more images, and enthusiastic guest reviews (booking.com guests rate it a 9.2 overall, with staff at 9.7 and locatoion at 9.8)