There are many excellent day trips from Thessaloniki. Greece's second largest city is at the heart of a region rich in history, culture, and natural wonders. Here are some of the best experiences you can enjoy on a day trip from Thessaloniki, from archaeological explorations to cruises, and from sacred sites to natural spas.
All these make an exciting add-on to a city break in Thessaloniki. For more on planning your trip, here is a selection of charming boutique hotels you might like. If you feel like a splurge, you can also check out these luxury options. And Thessaloniki is a great place to splurge – your money goes far here, so you'll have some budget left over for exploring the region.
Related post: Best Things to Do in Thessaloniki – Sights, Activities, and Cultural Experiences
Day Trips From Thessaloniki: Discovering Ancient Macedonia and the World of Alexander the Great at Pella and Vergina
Marking the waterfront of Thessaloniki, there is an enormous equestrian statue of Alexander the Great. Although we associate Thessaloniki with Alexander, he was never here. The city was founded in 315 BC by Cassander – Alexander's brother in law – and named "Thessaloniki" after Alexander's sister. By that time, Alexander had long since left for his glorious campaigns in the east. He died in 323 BC.
Two cities of Macedonian splendor are less than an hour from Thessaloniki: The ancient capital of Aigai (Aegae), at present day Vergina, and the newer seat of government at Pella. Aigai was the place of burial of the Macedonian Kings and the spiritual hearth of the Macedonians. Pella was a glamorous, prosperous metropolis. Alexander left for his campaigns from Pella, and it was the model for the cities he founded along the way.
Day Trips to Pella and Vergina from Thessaloniki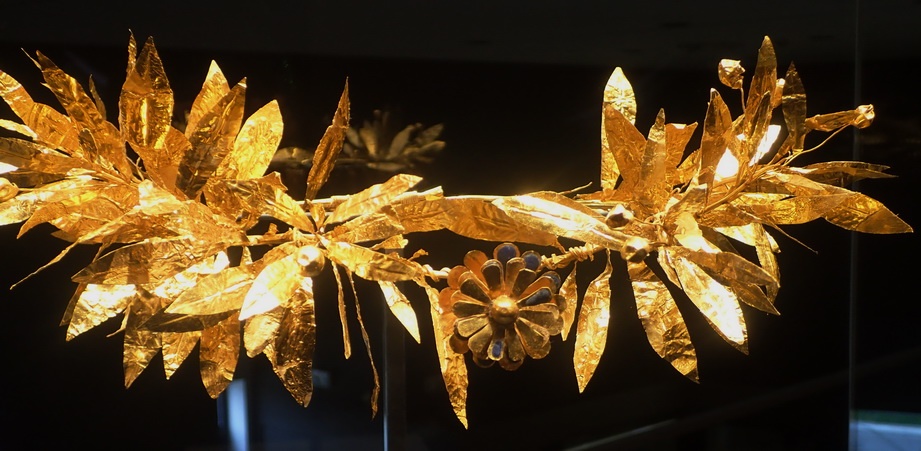 This two sites are especially interesting to see together. Visit both in one day on this convenient day tour. In addition to comfortable transportation, you'll have the services of a guide, and it also has "skip the line" assistance, so you'll maximize your time at the sites and museums.
Both the Pella museum and the Vergina museum are spectacular. Seeing the tomb of Phillip II in situ is a moving experience, and the surrounding museum is filled with mesmerizing treasures. At the Pella museum, you'll have a picture of the splendor of life in Ancient Macedonia. The mosaics at the archaeological site are also spectacular.
Experience Great Wines, the Best in Contemporary Greek Art, and the History of Wine: Ktima Gerovasiliou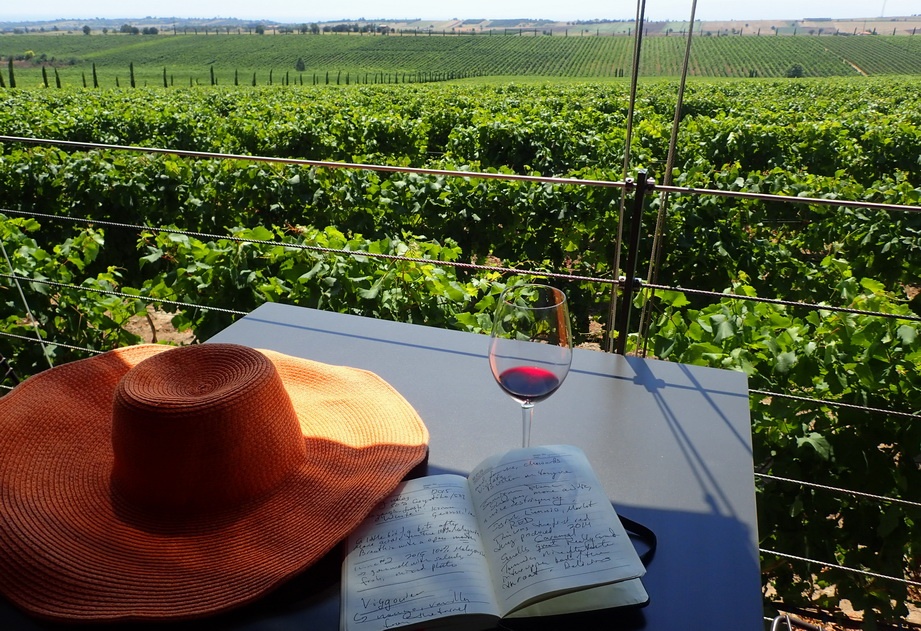 The Gerovasiliou vineyards and winery offer a first-class cultural experience on every level. The award winning winery, which is responsible for reviving an ancient grape variety, is dedicated to cultivating Greek grape varieties alongside international grapes. It's a fascinating place to come for a tasting and an easy day trip from Thessaloniki. Visit the luscious vineyards, see the winery, and then visit the world-class wine museum, which tells the tale of wine in our lives from ancient times until the present. In addition to ancient artifacts, you'll see one of the world's largest collections of corkscrews. After your museum and winery tour, enjoy the works of prominent contemporary sculptors throughout the vineyards, then have a tasting in a gorgeous room that floats over the vines.
Day Trips from Thessaloniki to Halkidiki: Mount Athos, plus Stagira – the Hometown of Aristotle.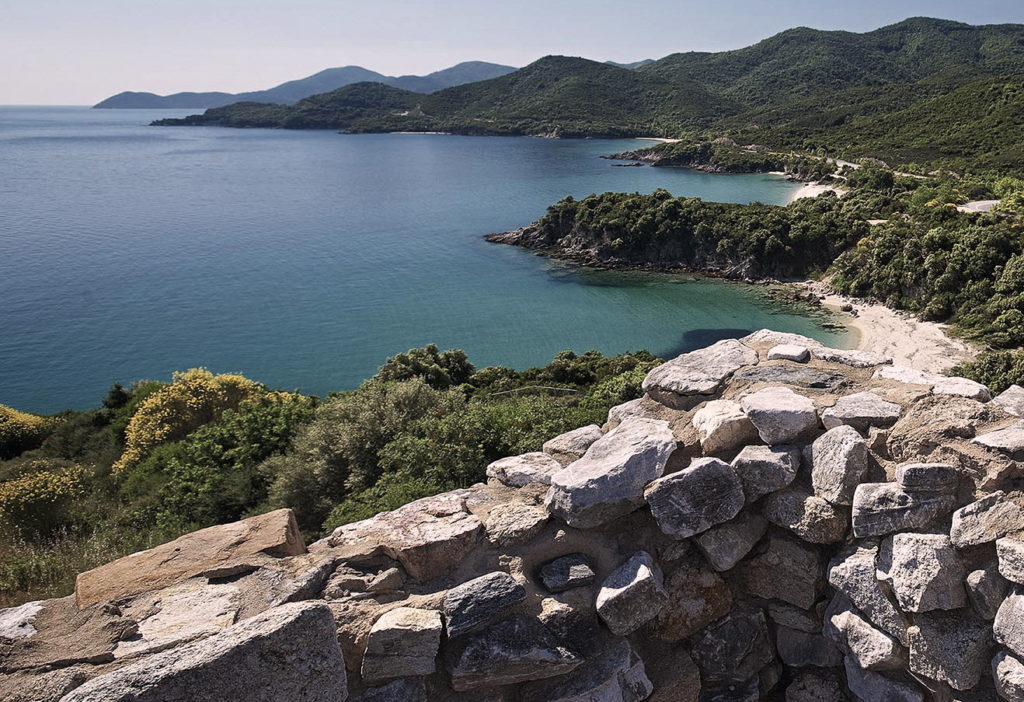 Halkidiki is world-famous for its spectacular beaches. But it's also a prime cultural and historic destination. The hometown of the philosopher Aristotle is at the eastern edge of the peninsula and it's a fascinating archaeological site. It's easy to picture Aristotle at the Academy in Athens, but actually, he was from Halkidiki, the beautiful green peninsula east of Thessaloniki.
Halkidiki has three legs – the first two have the famous beaches. The third leg is something else altogether. Mount Athos – also called Agion Oron ("Holy Mountain") has been home to Eastern Orthodox monasteries since 800 AD. There are now about 20 monasteries, in addition to the mountain itself, over 2000 meters high at the tip of this narrow peninsula.
Related Posts:
Only men can enter the Mount Athos peninsula. But anyone can see it by boat – it's an astonishing site.
Experience both Ancient Stagira and Mount Athos on this fantastic day trip from Thessaloniki. You'll enjoy a guided tour of Stagira, then continue to Ouranopolis for a boat trip along this majestic and mysterious peninsula.
Experience Meteora on a Day Trip From Thessaloniki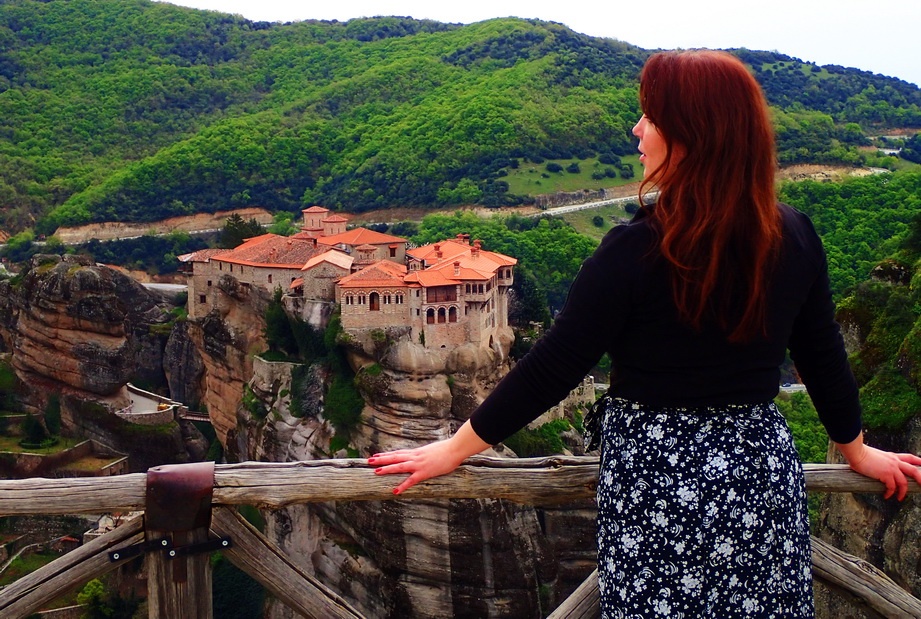 Geological wonder, architectural miracle, and spiritual haven – Meteora is unique in all the world. At this famous site – another of the UNESCO World Heritage Sites you can visit on day trips from Thessaloniki – megaliths rise 300 to 500 meters into the heavens. On top, you'll discover monasteries built in the 14th through the 16th centuries. Here you can read more about visiting Meteora.
Visit this astonishing site on a convenient day tour to Meteroa from Thessaloniki.
Visiting the Gods: Mt. Olympus and the Sacred Site of Dion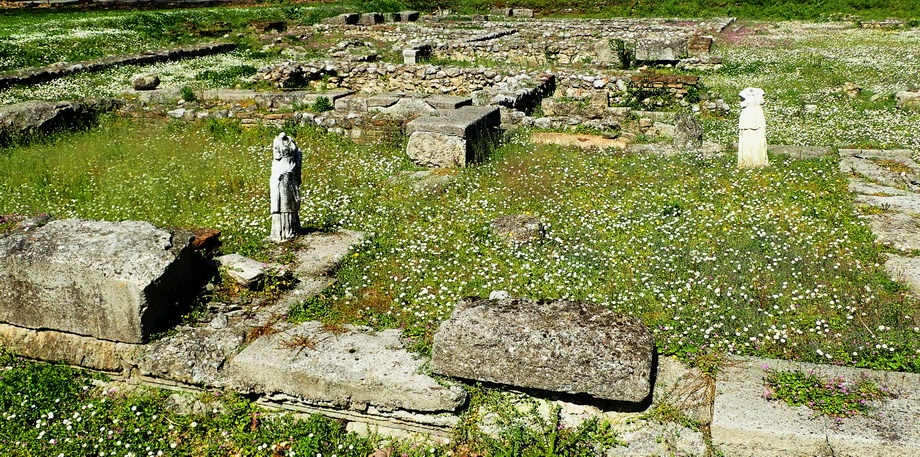 Thessaloniki has a great view of majestic Mt. Olympus – it's directly across the bay of Thermaikos. This was the home of the gods of the ancient world. At the foot of Olympus was the most sacred site of Ancient Macedonia. Alexander the Great came to Dion seeking Zeus' guidance before he set off on his glorious campaigns.
Visit the contemplative archaeological site of Ancient Dion, and hear the muses whisper along the banks of the sacred spring. Then see the magnificent findings – including a water organ (the hydraulis) and glorious statues – in Dion's museum.
After the museum and site, you can ascend the base of Mt Olympus. On this small group day trip from Thessaloniki, you'll continue up to Prionia, one of the rustic mountain shelters used by climbers, and take in the unique energy Greece's highest mountain – a suitable abode for the 12 gods. For individuals and pairs, this large group tour is a more economical option. Rather than ascending to Prionia, you'll enjoy an easy hike through the Enipeas gorge.
Go Canyoning at Mount Olympus on a Day Tip from Thessaloniki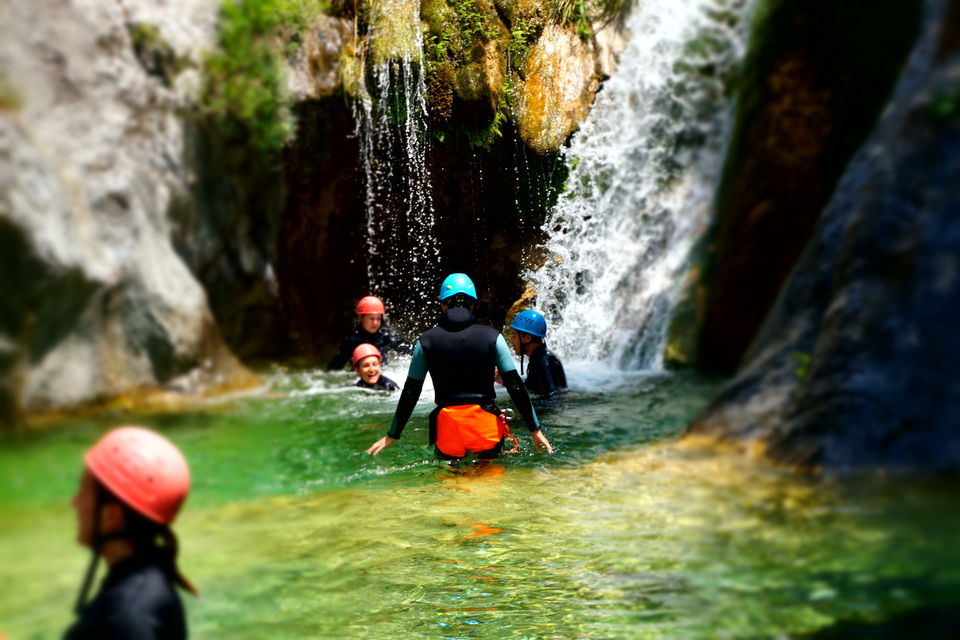 If you were looking for a day trip from Thessaloniki that provides an adrenaline boost, try canyoning. Jump, slide, and abseil down waterfalls on this thrilling half-day trip with a certified team of instructors. No experience is required for this fully equipped expedition – a great introduction to canyoning in an unbelievably beautiful setting.
Go Off-Road – Experiencing the Mountains and Beaches on a Jeep Safari
For a rugged experience of the beauties of rural Greece, take a private mountain and beaches SUV safari. You'll start out in Chortiatis then go off road through the Mount Chortiatis National Park. Get a taste of authentic mountain Greece at the classic village of Peristera, then head on to a gorge with a waterfall. After a traditional lunch in a rustic taverna with amazing views, you'll continue on to the sand dunes and sparkling waters of a great beach.
Ski – Or Just Enjoy the Most Majestic View in Greece – at 3 – 5 Pigadia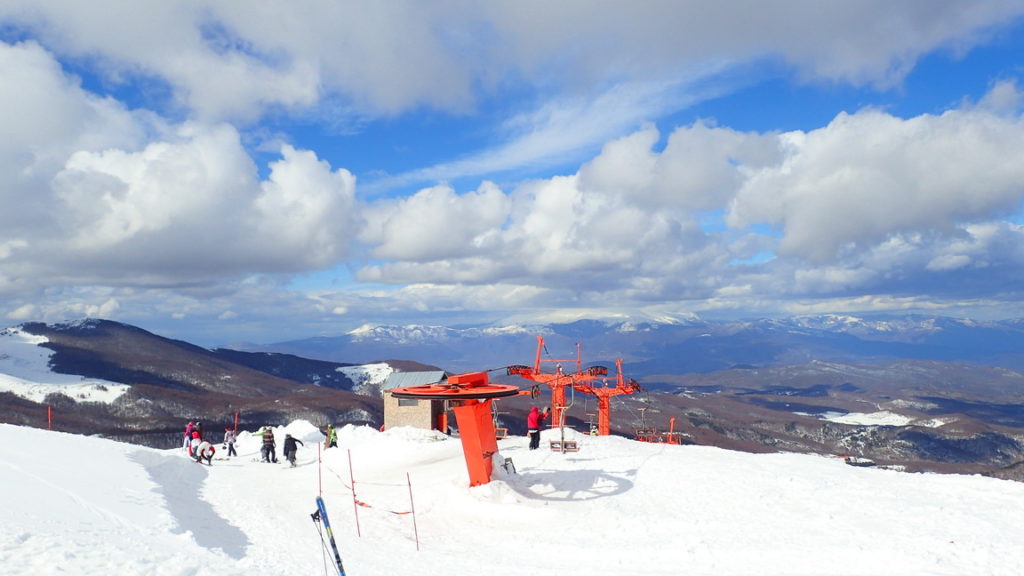 The Ski Center of 3 – 5 Pigadia ("3 – 5 Springs") is less than 2 hours from Thessaloniki, and only 15 minutes outside of the charming town of Naousa. It's a gorgeous drive, through the plains towards Veroia, then sharply upward along a road ever more densely forested. There are plenty of places for ski rental, and lessons are also available.
But non-skiers can also have a great time here, just by riding the chairlift to the rustic chalet. The lift tickets – which take you from an elevation of 1430 m to a thrilling 2005 m – are just €5. The ride takes about 15 minutes, in a tiny open chair for two, taking you above the tree tops as skiers slalom below you. The view up here above the tree-line is glorious. Mt. Olympus and other great mountains greet you from the distance across the clear atmosphere as you trudge through deep virgin snow to the chalet.
At the chalet, run by one of the Styllas brothers, from a famous mountaineering family that also runs the highest chalet on Olympus, take off your boots, walk across the cozy flokati-covered floor and settle in for a tsicoudia (a spirit of grape marc) and some meze. Take it easy though – alcohol hits you with a little more force up here in the thinner air.
Indulge in a Spa Break: The Beautiful Natural Thermal Pools of Pozar, Plus a Visit to Edessa, One of Greece's Loveliest Traditional Towns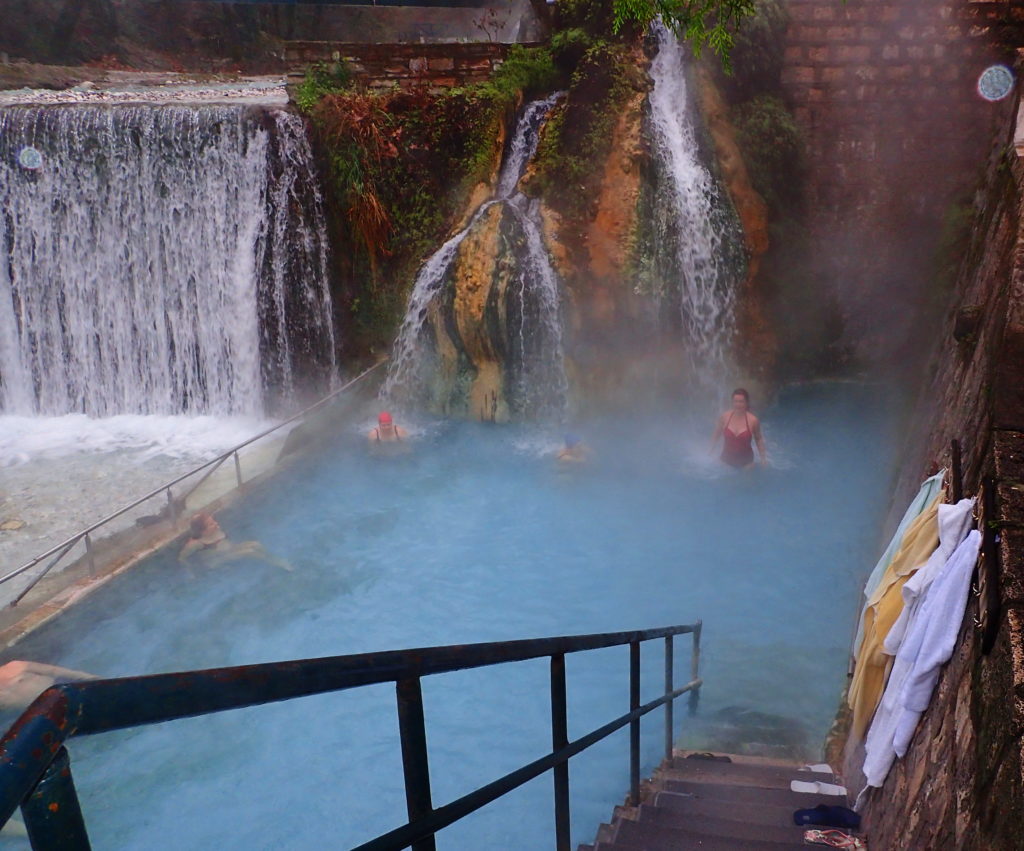 I just returned from a fantastic trip to Edessa. The capital of Pella, this charming town is nonetheless a relatively unknown destination. And that's so much the better for you – its authentic character and beauty are untouched by mass tourism. This is the place to experience not just the beauty but also the local character of Greece.
This region is filled with water. The sound of water follows you through the streets of Edessa along canals, and the waterfall – gushing over a cliff 70 meters high – is spectacular. A lush plain stretches out below.
Nearby is more water – the famous Thermal Baths of Pozar. Bathe under a canopy of trees, in therapeutic waters that fill natural pools next to a waterfall. Enjoy them summer and winter – the water is a cozy 37 degrees (magical in the snow!). There are also luxurious private rooms for an indoor experience, and a 25 meter swimming pool.
Enjoy both on this convenient day trip to Pozar and Edessa, where you'll start with the baths, then dine on the truly excellent cuisine of the region. Then you'll enjoy the charms of Edessa and the spectacular waterfall.
If you are small group, you might prefer this private trip in a luxury minivan.
Enjoy the Historic Byzantine Spa of Lagada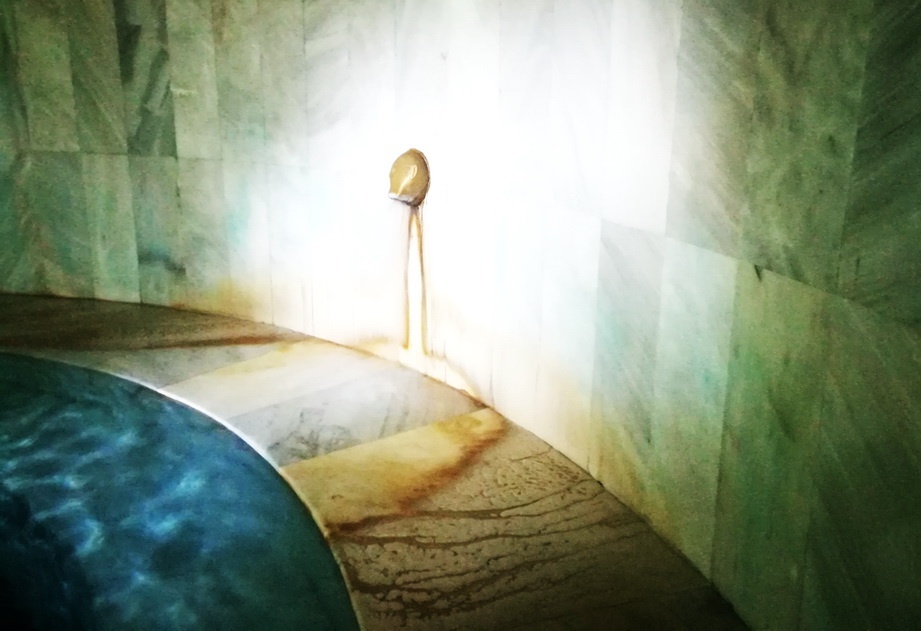 History and health unite at more thermal waters, close to Thessaloniki. In the suburb of Lagada, there are luxurious thermal waters in 2 historic marble baths that date from 900(!) and 1400 AD. You can get here by bus – there are several routes a day from the public bus system with the 83M- check here for a schedule.
Including the public transportation, this is definitely one of the least expensive day trips from Thessaloniki. It's also an incredible and intimate experience of history and architecture
Related post: Lagada Baths – Experience Historic Byzantine Baths at Loutra Lagada
Discover Thessaloniki from the Water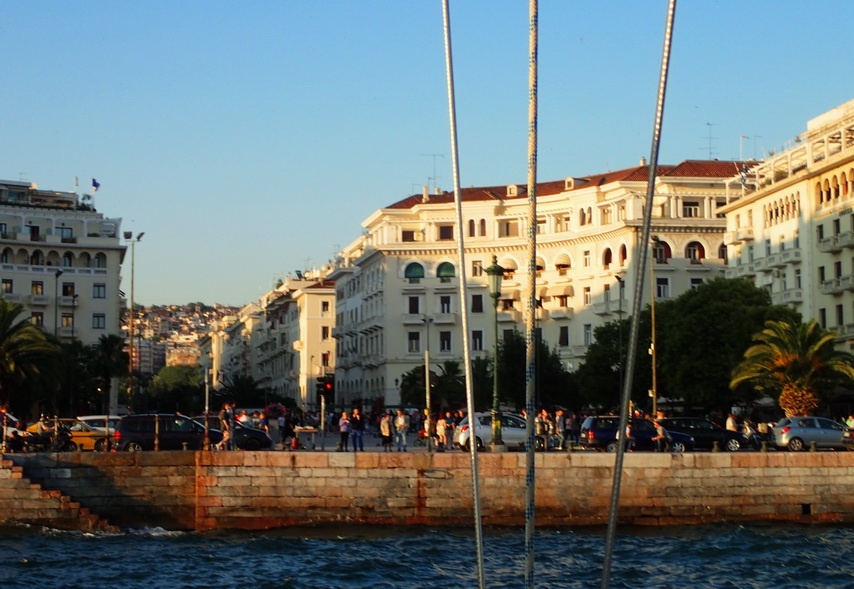 You don't need to go far to get a completely novel experience of Thessaloniki. Cruise around the gorgeous Bay of Thermaikos on this small group sailing trip. On this top-rated excursion, you'll enjoy stories and lore, Greek wines and meze, and incredible views. This three-hour experience is one of the best ways to truly connect with Thessaloniki.
Get Close to Wildlife – Buffalos, Flamingos, Majestic Wetlands and Mountains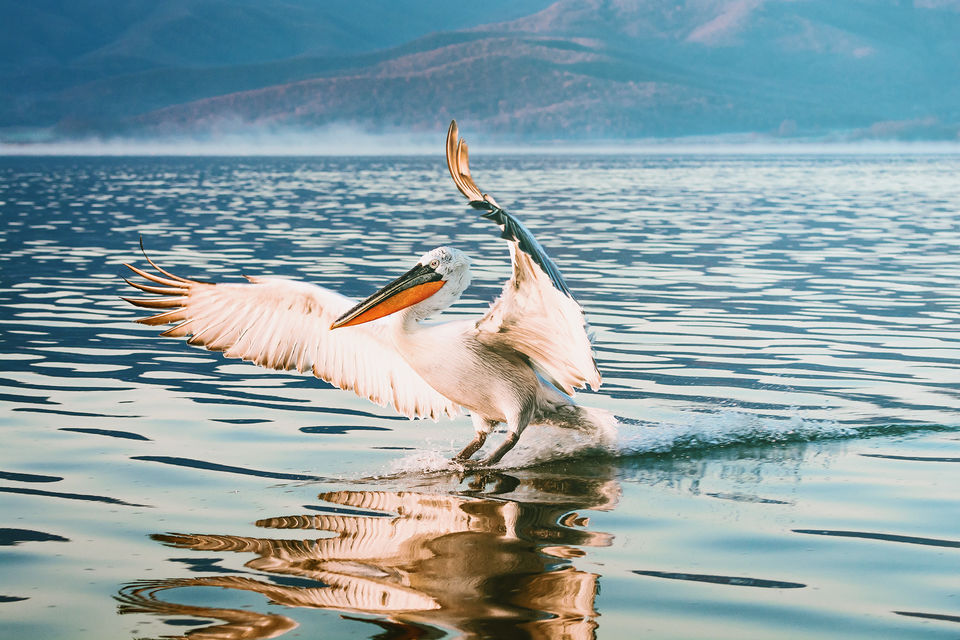 Northern Greece is full of natural wonders. On this fabulous day trip and boat cruise on Lake Kerkini, you'll experience one of Greece's most important wetlands up close. Nearly 300 species of birds and rare animals call this exotic wetland habitat home. After bird watching and a cruise across the lake's glassy surface, you'll visit a farm for the local buffalos, all with Mt. Beles in view. Then continue to a traditional village to enjoy true local cuisine at a taverna.
Experience Real Greece – Tasting Traditional Life in Beautiful Villages on a Day Trip from Thessaloniki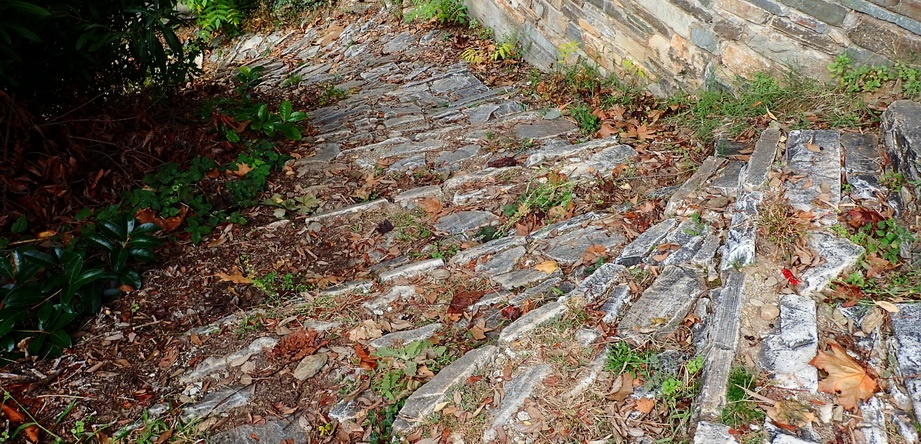 The region around Thessaloniki is filled with beautiful and historic villages in dramatic natural settings. On this private tour from Thessaloniki, you'll visit Livadi, Petrokerasa, Agios Promodromos, and Galatista. Each offers a unique experience – chestnut forests, a magnificent 14th century Byzantine tower, historic churches, and endless vistas. This is a great way to encounter the locals – enjoying a thick, strong Greek coffee at a classic "kafeneio" and dining on authentic local cuisine.
Visit Kavala for the Day
Everyone who visits Kavala absolutely loves it. A charming and hilly city with a lovely waterfront, the locals are proud to call it the "Monaco of Greece" and they are not wrong. There is definitely a sense of glamour in the grand mansions that were built by the tobacco merchants, and an air of the exotic in the grand 19th-century Imaret, high on the peninsula.
Kavala is exactly 2 hours from Thessaloniki on the KTEL express bus, with several departures each day (check here). The bus station of Kavala is directly in the center, by the picturesque waterfront. Kavala is a great city for exploring on foot. There is a fine and small archaeological museum in the center, and also a fascinating (and sweetly fragrant) tobacco museum – Kavala was the center of a prosperous tobacco industry for many decades.
Other sites include a huge Ottoman acquaduct in excellent condition, and a church that was once a mosque – the lovely Agios Nikolaos. Kavala is where St. Paul first set foot on European soil – there is a mosaic depicting his arrival outside the church. You can also visit the Imaret for coffee or a meal in historic surroundings with stunning views, and walk around the old town.
The seas here are generous – you can enjoy an excellent meal at a seaside taverna. We adored the casual and elegant Psaraki, right at the water's edge, with a view of the Imaret across the water.